Invoice Processing
Streamline your billing and payment processes with easy
if (trim(get_post_meta(get_the_ID(), 'block1_a_ancor', 1))) : ?>
Request a demo
endif ?>
if (get_post_meta(get_the_ID(), 'block1_img', 1)) : ?>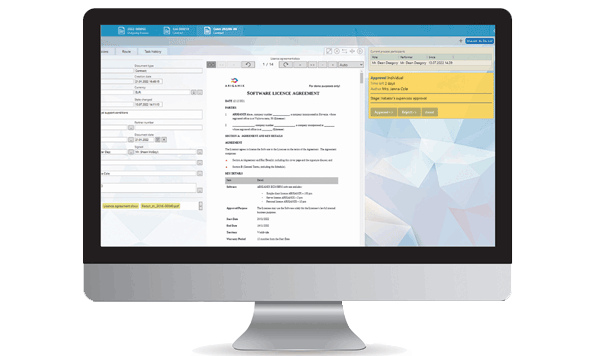 endif ?>
With our Invoice processing module, you can
easily automate the invoice processing life cycle
ARIGAMIX has a ready-made and intuitive invoice reconciliation module that is easily customizable and optimized for every user role, from manager to CFO.
Contract approval and accounting automation
Sign contracts electronically
Check the client's IBAN for correctness
Synchronize the client database with Ajpes data
Automatic generation and recognition of QR codes
Check invoices for duplicates
if (trim(get_post_meta(get_the_ID(), 'block2_a_ancor', 1))) : ?>
Schedule live demo
endif ?>
ARIGAMIX simplifies the complex
task of invoicing
Automated Data Entry
Say goodbye to manual data entry and let our system handle it for you, accurately and efficiently
Customizable Templates
Create invoices that match your brand and include all the information you need, with our customizable templates
Approval Workflows
Streamline your approval process with our automated workflows and reduce the time it takes to get invoices approved
Payment Tracking
Keep track of all payments made and received, with our comprehensive payment tracking system
Check Invoices for Duplicates
With this feature, users can save time and avoid errors by quickly identifying any duplicates and taking action to resolve them.
Mobile Access
Stay on top of your invoicing, even when you're on the go, with our mobile-friendly interface
Integration with Accounting Systems
Seamlessly integrate our platform with your existing accounting system and save time by avoiding double data entry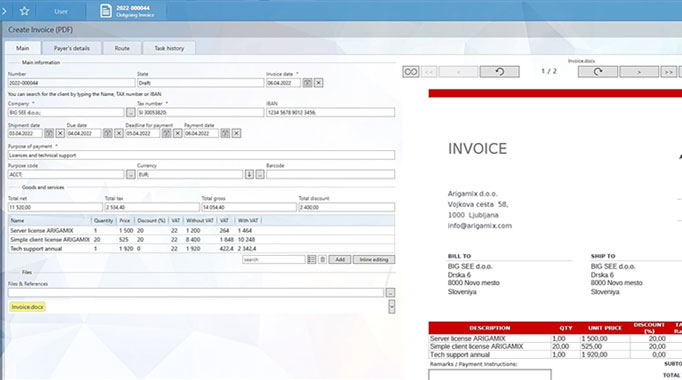 With our automated invoice processing solution, you can
easily manage incoming or outgoing invoices
We have implemented automatic filling of data by QR code, receiving data automatically from AJPES by tax number or bank account number, generation of payment receipts
Link invoices to contracts and other documents
Formation of a printed invoice form
A set of reports to control the status and volume of payments
Schedule live demo
Our Invoice Processing Module provides a simple and efficient solution to the complex and time-consuming task of invoicing. Whether you're a small business or a large enterprise, our platform can help you
streamline your billing and payment processes, saving you time and resources.