ARIGAMIX — Document Management System
Where you can securely store, manage, and access all your documents in one place.
if (trim(get_post_meta(get_the_ID(), 'block1_a_ancor', 1))) : ?>
Request a demo
endif ?>
if (get_post_meta(get_the_ID(), 'block1_img', 1)) : ?>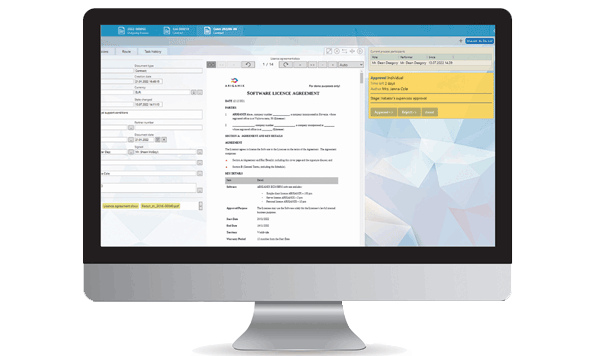 endif ?>
Our system streamlines the process of organizing, sharing, and tracking your important files,
allowing you to focus on what matters most.
The typical solution contains everything you need to get your system up and running the day after installation.
Universal documents coordination (parallel, sequential, mixed)
Sample reports and notifications
if (trim(get_post_meta(get_the_ID(), 'block2_a_ancor', 1))) : ?>
Schedule live demo
endif ?>
Key
Features:
Secure Storage
Keep your documents safe and secure with our encrypted storage system.
Version Control
Track changes to your documents and easily revert to previous versions.
Easy Access
Access your documents from anywhere, at any time, with just a few clicks
Search and Retrieval
Find the files you need quickly with our advanced search and retrieval system
Collaboration Tools
Work with your team and share files with ease, with our built-in collaboration tools.
Automated Workflows
Streamline your processes with our customizable workflow automation.
Audit Trail
Keep track of all activity and changes made to your documents with our detailed audit trail.
Contract
management:
Maintain and keep track of all tour company contracts, process them, and approve and sign any documents, also the ones issued by your partners without paper. All these using the DocuSign service - a turnkey solution that does not require configuration and refinement.
Contract approval and accounting automation
Synchronize the client database with Ajpes data

Sing contracts electronically using the DocuSign, SETCCE, Rekono services
Our Document management System is designed to meet the needs of organizations of all sizes. Whether you`re a small business or a large enterprise,
our system provides you with the tools you need to manage your documents effectively.