ARIGAMIX ECM|BPM Platform
There's no surefire formula for instant success, but you can boost your business's growth with ARIGAMIX
if (trim(get_post_meta(get_the_ID(), 'block1_a_ancor', 1))) : ?>
Request a demo
endif ?>
if (get_post_meta(get_the_ID(), 'block1_img', 1)) : ?>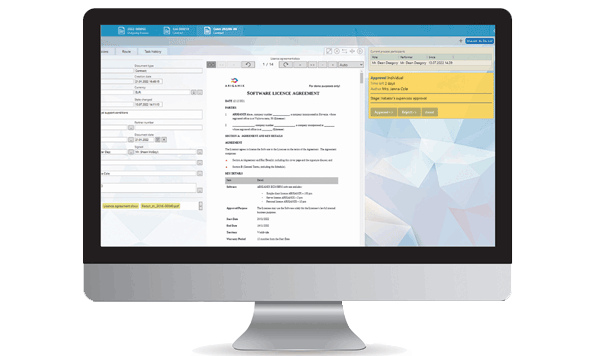 endif ?>
ARIGAMIX platform is a versatile new generation CSP-class platform
that combines DMS, ECM and BPM services.
ARIGAMIX provides many designers, settings and low-code technologies for quickly creating a complex of a wide variety of document and business process management solutions built on a single platform
Electronic archives of documents
Document and task management
Business process automation
Service desk and ticket management
if (trim(get_post_meta(get_the_ID(), 'block2_a_ancor', 1))) : ?>
Schedule live demo
endif ?>
One platform -
many solutions
Digital document Archive
• A single centralized repository for documents of various types (Enterprise Content Management, ECM).
• Flexible access rights management
• Navigation and document search engine
Document and Task Management
• Document registration and accounting automation
• Document templates
• Document approval
• Creation tasks related to documents
• Work with documents collectively
• Reporting system
Business Process Automation
• Powerful Workflow-designer for business process automation of any complexity
• May be integrated with other systems
• Automate standard business processes: contract management, invoices, letters of attorney, personnel, purchases, applications, internal documents, external correspondence, etc.
• Automate industry business processes and solutions: insurance, lending, account opening, a retail outlet opening, creation of a new product sample, logistic processes, etc.
Contract Management
• Contract approval and accounting automation
• Sign contracts electronically using the DocuSign and SETCCE services
• Synchronize the client database with Ajpes data
Invoice Processing
• Automated Data Entry
• Customizable Templates
• Approval Workflows
• Payment Tracking
• Multi-Currency Support
• Mobile Access
Service desk and ticket management
•Ticket Management
•Automated Workflows
•Knowledge Base
•Reporting and Analytics
•Integration with Other Systems and Email
•Mobile Access
Ready-made solutions based on ARIGAMIX

Fast start right away.
A typical solution is a ready-made basic configuration of objects, settings, and software extensions based on the ARIGAMIX platform.
The typical solution contains everything you need to get your system up and running the day after installation.
Register documents of various types
Universal document coordination (parallel, sequential, mixed)
Sample reports and notifications
Schedule live demo
The implementation in ARIGAMIX of various tools for collective work with documents and system objects can
significantly increase the speed of task execution, document processing and decision-making.